Strength/Skill:
3 Sets:
 Front Squat  x 3 @ 90% of 1RM
WOD:
"Benchmark Friday"

COE

10 Rds For Time: 
95 pound Thruster, 10 reps
10 Ring push-ups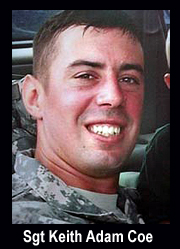 Army Sgt. Keith Adam Coe, 30, of Auburndale, FL, assigned to the 1st Battalion, 37th Field Artillery Regiment, 3rd Stryker Brigade Combat Team, 2nd Infantry Division, Joint Base Lewis-McChord, WA, died April 27th, 2010, in Khalis, Iraq, of wounds sustained when enemy forces attacked his unit with an explosive device.
He is survived by his wife Katrina Coe, two sons, Killian and Keith Jr., and daughter, Klover.
Additional:
3 Sets: